Newsletter

The School of Management Sciences also publishes its Newsletter with information and news about various departmental activities and is received by over 300 corporate sector organizations. The newsletter is used as a mechanism to improve the linkages between industry and academia by providing information on departmental activities. The Newsletter also acknowledges the support of the sponsors of departmental activities and hence helps in successful public relations of the department.
Friday Seminars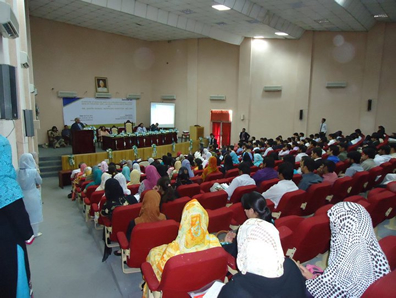 Seminars are arranged every Friday, for the students to acquire more knowledge about the practical aspects of work in different organizations. Guest speakers are invited from the corporate sector to cover a wide range of topics that add to the learning experience of the students. Students are encouraged not only to participate in these seminars but also help in identifying guest speakers on relevant topics.
Industrial tour (twice a year)
An industrial tour is arranged twice in a year for the senior students. During the Industrial tour, business establishments and industries in Lahore, Faisalabad, Sialkot and Shaikhupura are visited. The students are briefed about the work processes of the commercial organizations and exchange views with people working in the industries.
Profile of the graduating class
For outgoing batches, Profiles of graduating students are published and circulated among employers who may be seeking the Business/Public Administration graduates. The profile contains CVs of the outgoing class. The Profile has been very instrumental in placement of the graduates of the department.
Excursion trips
As a co-curricular activity, excursion trips are arranged to various scenic spots once every semester for students. The trip provides an opportunity to students to enjoy themselves along with their friends and establish good understanding with their colleagues.
Sports
It doesn't matter whether you win or lose until you lose!!!!. The Department promotes all sporting activities. Students of the department actively participate in the inter-departmental sports events as well as inter-university tournaments.
Funfair
Funfairs contain not only a mixture of attractions for students but also provide them with an opportunity to expand their creativity standards and express their marketing skills.
Industrial Visits (as part of course work)
Quaid-i-Azam School of Management Sciences (QASMS) has a rich legacy of producing quality business graduates. Its graduates are equipped with diversified knowledge and skills required to excel in practical life. Therefore, it's highly recommended to our students to gather as much practical information as possible. For achieving this goal regular industrial visits are promoted and arranged.
Annual Dinner
Customary annual dinners are arranged by the students of QASMS. This event helps in establishing a healthy and open relationship between all the programs and with faculty as well.
Computer Lab (Under Construction)
A state-of-the-art computer lab is under construction. Students will be able to use this facility for their project assignments, presentations and information search.